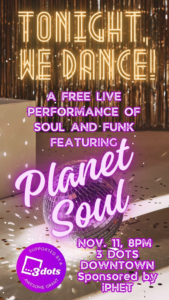 The Black Joy Archive is an initiative that seeks to address this missing component of justice work in State College. The initiative comprises of two components: a funk-inspired concert called "Tonight, We Dance!" scheduled for Saturday, November 11, 2023 and a pop-up expo.
During the performance, audience members will respond the question, "Where do you experience or observe Black joy in State College?" Responses will be written down on blank cards and pinned to the expo wall, giving others opportunity to read multiple responses. We plan on conducting short video interviews with willing audience members and will ask them about their engagement with the show and their response to the expo question.
The goal is to generate multiple artifacts that will constitute State College's inaugural Black Joy Archive. The written responses, interviews, and concert recording will be submitted to the Racial Equity Advisory Commission to record as public local history. We also hope to submit the artifacts to Penn State's Blockson Collection of African-Americana and the African Diaspora, so that these experiences of joy are well documented and preserved for future generations.
Sponsored by iPHET & 3 Dots Awesome Grant