your idea can make our town
We award $1000 every month to people like you who have creative ideas to make our town awesome!
Anyone can apply. Yep, even you!
Don't worry if you've never applied for a grant.
Be the person who shapes the future of our town. We'll connect you to your neighbors who are rolling up their sleeves to better our community. Our $1000 monthly grants are a small way to help turn your crazy and bold ideas into tangible realities.
You can submit an idea at any time. Our trustees vote on the last Tuesday of each month and use the following criteria when deciding who wins.
Does it make Centre County an awesome place to call home?
Does the money produce something tangible that can be seen?
Are you pushing yourself to explore something new?
Does your project engage the broader community?
Please note, there are a few uses of the funds that we will not consider:
Deadline to Submit Your Idea
We are giving away TWO $1000 grants for the end of the year! 
Dec 3 (midnight): Submit your idea online.
Dec 5: Finalists will be notified if they have been selected to advance.
Dec 12: Finalists must submit a short video pitch of their idea.
Dec 15 (5:30p): Tune in to the livestream to find out the winners!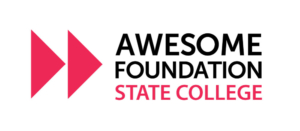 As a chapter of the Awesome Foundation, our grants support a world-wide effort to spread a little more awesome in the universe. No strings attached grants for everyday people trying to better their communities.
Funded and Supported by people like you, and our numerous partners: