Gorinto//Secret Planet//3 Dots Present: El Khat

Tuesday, November 14
7:00 pm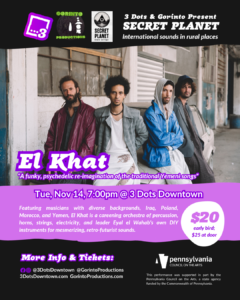 Gorinto x 3 Dots Present Secret Planet: International Sounds in Rural Spaces will establish a landmark series of diverse global music performances in rural Central PA, connecting a decentralized consortium of curators, musicians, and producers presenting international performances across the Northeast and Mid-Atlantic.
"It creaks and rattles, the screws are loose, but it holds together and it moves magnificently. It's the sound of El Khat, an international deconstruction squad led by Eyal El Wahab, a son of the Yemeni Jewish diaspora on a mission to recover his roots.
He found his epiphanous mojo in a collection of Yemeni folk and pop records of the 60's, sparking a bout of instrument building from bits of wood, saucepans, wire and rope, and the formation of the band with three friends from Polish, Iraqi and Moroccan backgrounds adding trumpet, guitar, disco-keyboards and hybrid jazz/junk percussion to El Wahab's heartfelt vocals and slippery inventions on his homemade bass.
As undulatingly stimulating as the eponymous plant, El Khat mix trash and tradition in a timely urban reclamation of a disenfranchised culture. " (Womex.com).
"A true original … El Khat is fascinating and disconcerting,unlike anything else you are likely to hear." -Songlines
This performance was supported in part by the Pennsylvania Council on the Arts, a state agency funded by the Commonwealth of Pennsylvania.