September – November 2023
By bringing together local artists from a multiplicity of perspectives, Blood Lines honors, witnesses, and celebrates reproductive experiences, which are too often marginalized and stigmatized. In our current moment, conversations about reproductive rights, bodily autonomy, and access to essential care are at the forefront of political discourse. Responding to these issues, the works featured in Blood Lines contemplate an expansive range of reproductive histories, politics, and experiences, ranging from pregnancy, to postpartum, abortion, illness, fertility, sexuality, parenting, trauma, and beyond. The included artists share profoundly intimate documentation of bodies, stories, and lives. Throughout the gallery space, explorations of ancestral lineages, Black lesbian eroticism, transgenerational echoes of domestic violence, the nuances of sex work, and recognitions of domestic labor are put into dialogue with one another. We invite you to contribute to multiple interactive pieces in the show as an opportunity to reflect on your own perspectives surrounding reproductive histories and experiences.
On October 5th, the exhibition will become the backdrop for an evening language arts event also called Blood Lines, through which local poets, writers, singers, and storytellers address these same subjects.
Together, this visual art exhibition and accompanying language arts event are an opportunity for our community to celebrate, share, and support experiences that are too often disregarded, represented in predictable ways, stigmatized, and misunderstood.
Featured Artists
Maggie-Rose Condit-Summerson, Amy Delosa, Nic(o)/le Gargiulo, Nancy Hamilton, Ivy, Ngozi Joy, Juniper, Delaney Marshall, Abby Minor, Zsuzsanna Nagy, Erica Quinn, Glynnis Reed, Harriet M. Rosenberg, Jennifer Anne Tucker, Tricia Wallace, Kristin Ziegler
Meet the Curator
Maggie-Rose Condit-Summerson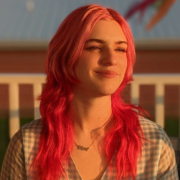 (she/they) is an artist, educator, and PhD candidate in Art Education and Women's, Gender, and Sexuality Studies at Penn State University.
Maggie's dissertation research focuses on feminist art-centered pedagogies to illuminate the emerging connections between reproductive justice, digital technologies, and data surveillance. Maggie received her MFA in Visual Studies from Pacific Northwest College of Art in Portland, Oregon. Her personal practice utilizes performance, video, and installation to explore the sticky relationships between femininity, the body, the marketplace, and digital/visual culture, incorporating materials like cosmetics, confectionery ingredients, and stock images.