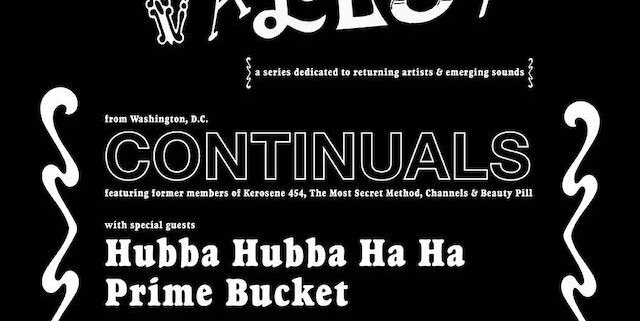 A Town So Small (ATSS) is proud to present a new series of sporadical events in State College, PA. Forgotten Valley's goal is to help bring back former artist, town residents and/or artists that performed in previous decades but have not been able to return.
Equally important is the support of local/regional acts and entities of State College. ATSS is not based in SC (but lots of family still up in it ✌️) so we've teamed up with local promoter Gorinto Productions and non-profit venue 3 Dots Downtown who carry the same spirit that many of us have encountered over the decades w hen playing in alternate spaces and places: love of the music, exposing audiences to new sounds and experimenting with lineups.
Continuals features Darren Zentek, who played drums for several, legendary State College bands including Slag, T4, Donora and Glendale, in the late 80s and early 90s. Upon joining Kerosene 454, Darren moved to the D.C. area and has since played in a plethora of acts including Oswego, Channels and Office of Future Plans.
Continuals also includes Ryan Nelson, former drummer of The Most Secret Method, Beauty Pill and Jury-Rig, who performed in State College numerous times between 1995-1999. Ryan is also a helluva illustrator and his work is often seen utilized as artwork for his band's releases in addition to DC show and tour posters. Scroll through the images to see several samples of his work in addition to various show flyers of Darren and Ryan's previous bands.